04/13/2007
is it? are they? no, they couldn't be!
A few days ago I finished a pair of socks that I can't quite show off just yet. But as soon as I was done I casted on a pair of infant socks for Kailey. I though heelless socks would be a good idea for her, so she wouldn't be able to grow out of them anytime (real) soon. I grabbed my Knitting Vintage socks book and casted on 36 stitches, 2 1/2 pattern repeats latter I casted off these bad boys:
(click on all pictures in this post to embiggen' them)
Stats:
Pattern- based on the Heelless sleeping socks in Knitting Vintage Socks by Nancy Bush
Yarn- Socks that Rock in boysenberry
Needles- Inox US 2 dpns set
Gauge- umm... I really should just remove this...
Started- April 8, 2007
Finished- April 9, 2007
Notes- Even though they will fit her for a long time, they cant' stand up to her wild kicking for very long! I also think they look a little stupid with out a heel.
Now tell me something....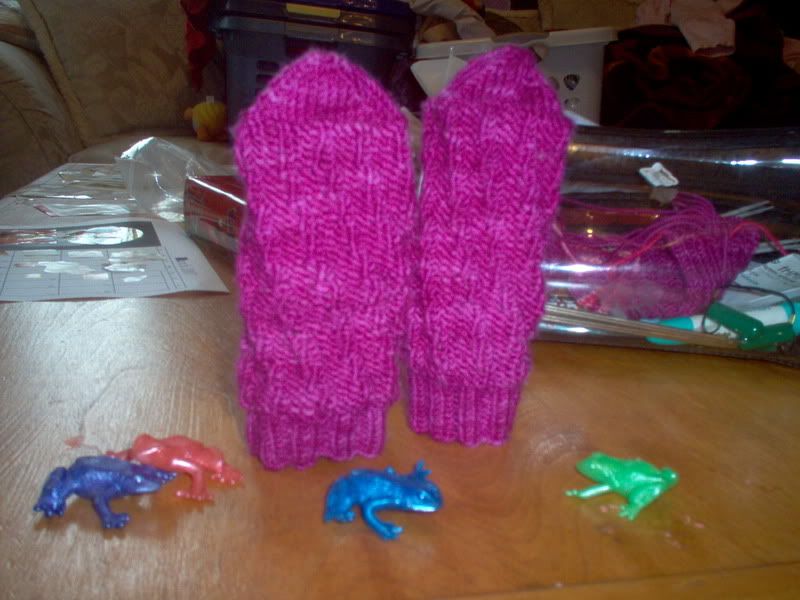 do these socks really look like baby socks? or something else? Like maybe *cough*weewillywarmers*cough*?