02/21/2006
Maybe he's onto something... just maybe... hmmm... huh what? What am I talking about. Oh yeah, well last week B fell while playing at school. He was awarded with a nice size goose egg complete with abrasion. It is enough to make you wince. When he came home from school he was hungry, he wanted lunch meat, crackers and cheese, his exact order. He saw some thin mints while getting some crackers. Sure, he'll have two. I swear, I didn't know it would lead to this:
uh huh, its really a cracker, cheese, bologna and thin mint cookie. ew. ew. ew.
But hey, He's eating it and he swears its good!
maybe he is onto something, or maybe he just hit hit head to hard! maybe......
Knitting Olympics:
Finally finished the yoke last night, after three freaking attempts. More on that later. I've ripped out the bottom, ripped back three rows and started knitting with the green. Hopefully will be done tomorrow. *crossing fingers*
02/08/2006
Sometimes they look so sweet, innocent, peaceful.
(sorry for the crappy pic)
and then. They wake up.
But sometimes, they are so sweet, playful, even endearing.
(The kids where waiting for me to read their bedtime stories. Hey! They are in order, from left to right we have C, B and A.)
I'll just try to remember this the next time B takes 45 minutes to eat a PB&J, C decides that finding her Barbie's PJ's with the bride on the front is life or death hostage situation, and A tries to ride the cat, or opens and devoirs a bannana in the middle of the grocery store, or has a royal meltdown because Mommy said that she can not have a lolly at 10am
Still, aren't they really damn cute? They melt my heart.
02/02/2006
It all started off with a simple innocent phone call, really it did. I drop B off at school, and call my friend Mandy. (who lives a whole 4 houses away.)
This is how it went:
Me: I need to go to the bank, wanna go with me and I'll get you a cup of coffee?
Mandy: Sure.
Me: Thanks, I really didn't want to go by myself. I'll pick you up in a few.
I stop by her house, see her newly finished clapotis (SOOO PRETTY!!) and off we go. We stop by Sheetz, get our necessary breakfastiey needs, (coffee, water and M&M's) and I ask her. Wanna go to the mall? I need to pick up my book. Sure she says, I don't care. We get to the mall, got to the book store, A plays a good game of gotcha with Mandy, and I get my book (Sensational Knitted socks) and I pick up a copy of the new bead and style mag. We get out the van, Mandy points to the car parked diagonal from us. LOOK AT THAT! She exclaims.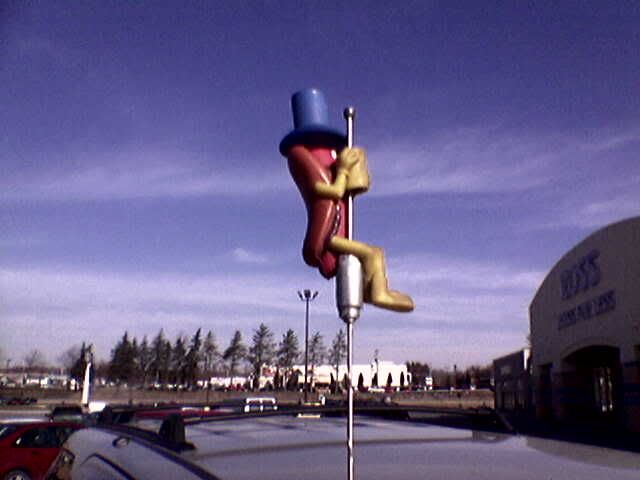 I think my camera phone has just paid for itself folks. Oh, my I'm at a loss of words!! But isn't the sky pretty??
I guess Punxy Phill saw his shadow,
So 6 more weeks of Winter. Phil's accuracy record is only 39% thank God!( Click here for some fun Groundhog day facts) I've never been to the Groundhog day activities, even though I live less than 20 minutes away. But I have seen the furry lil guy (girl actually) in his habitat at the Punxsutawney library. (Nope, not the zoo. He lives in the library, with two other groundhogs.) Lucky lil rodent.
Well.. I'm off to search for the camera cable again. Mom, its not it my boots (very funny) I would like to blame A (the baby) but I know its really my fault. And it has everything to do with my lack of organizational skills. I thought Virgo's were supposed to be organized!! (Liars!)
Mandy, thanks for a fun morning!! *L*
01/31/2006
soo... this evening my Dad arrived and brought dinner! (My favorite kinda house guest)! My Dad is on his way home to Massachusetts from Colorado, where he just bought a '86 Jeep Grand Wagner. Well, I took some pictures this evening of my finished pair of socks, think I can find the stupid God forsaken damn confounded blappietyblapping cable for the camera?? HELL NO! AND I know that I had it today!! I KNOW IT! Damnit. Damnit. DOUBLE FREAKING DAMNIT! I will find it someday, somewhere in this freaking house. (The house only has 4,000 sq feet.) damnit.
01/03/2006
Because there are better things I should be doing with my time than ready blogs. Really, like doing the dishes, laundry finishing Christmas presents *gasp*, posting a "real" post (since I've deleted THREE photo albums and have 7mg of space used) I happened onto this over at JenLa, Built and Post your ugly Avatar. I call mine, Drunkin' Ms. New Year. I suppose she wandered off the green and into the cornfield. You can built your own Avatar Here.
Later, once I upload pictures (again) a real post. C has GS tonight. And there is talk about Cookie sales. *urgh*
*This is kinda a meme, *pointing* JenLa started it!! Anyone who happens to see this today, go bulid your ugly Avatar. Don't forget to let the girls at JenLa know about it. (I would love to know too) Have fun!
** Check out JessLu's I just have to say.. uh.. nice hat..